THE LIBRARY'S COLLECTION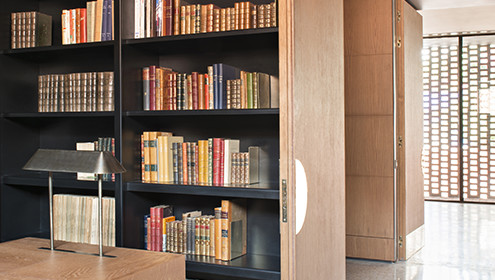 Research library
The library at the musée YVES SAINT LAURENT marrakech is a research centre welcoming a broad range of users: Moroccan and foreign researchers, anthropologists, historians, archaeologists, curators, artists and university students. The library is accessible, by appointment, to any person expressing an interest in its holdings.
The library's collection includes both donated and acquired volumes.
Among the library's most important acquisitions are books concerning the Berber people (Imazighen). These studies – whether ethnological, historical, anthropological, philological or sociological – began being published at the beginning of the 20th century, and constitute the scientific background upon which the documentation for the Jardin Majorelle's Berber Museum collection was partly based.
It was Mr. Pierre Bergé's wish to greatly enrich the library by donating an exceptional collection: important and rare volumes, dating from the 17th to 20th centuries, dealing with the history, literature and traditional arts of Morocco. The library's holdings also include an important collection of books devoted to gardens, landscaping and botany donated by Mr. Madison Cox, as well as volumes concerning Yves Saint Laurent and fashion.
The library provides a vital channel for developing meaningful partnerships with Moroccan universities and cultural institutions.