PERMANENT EXHIBITION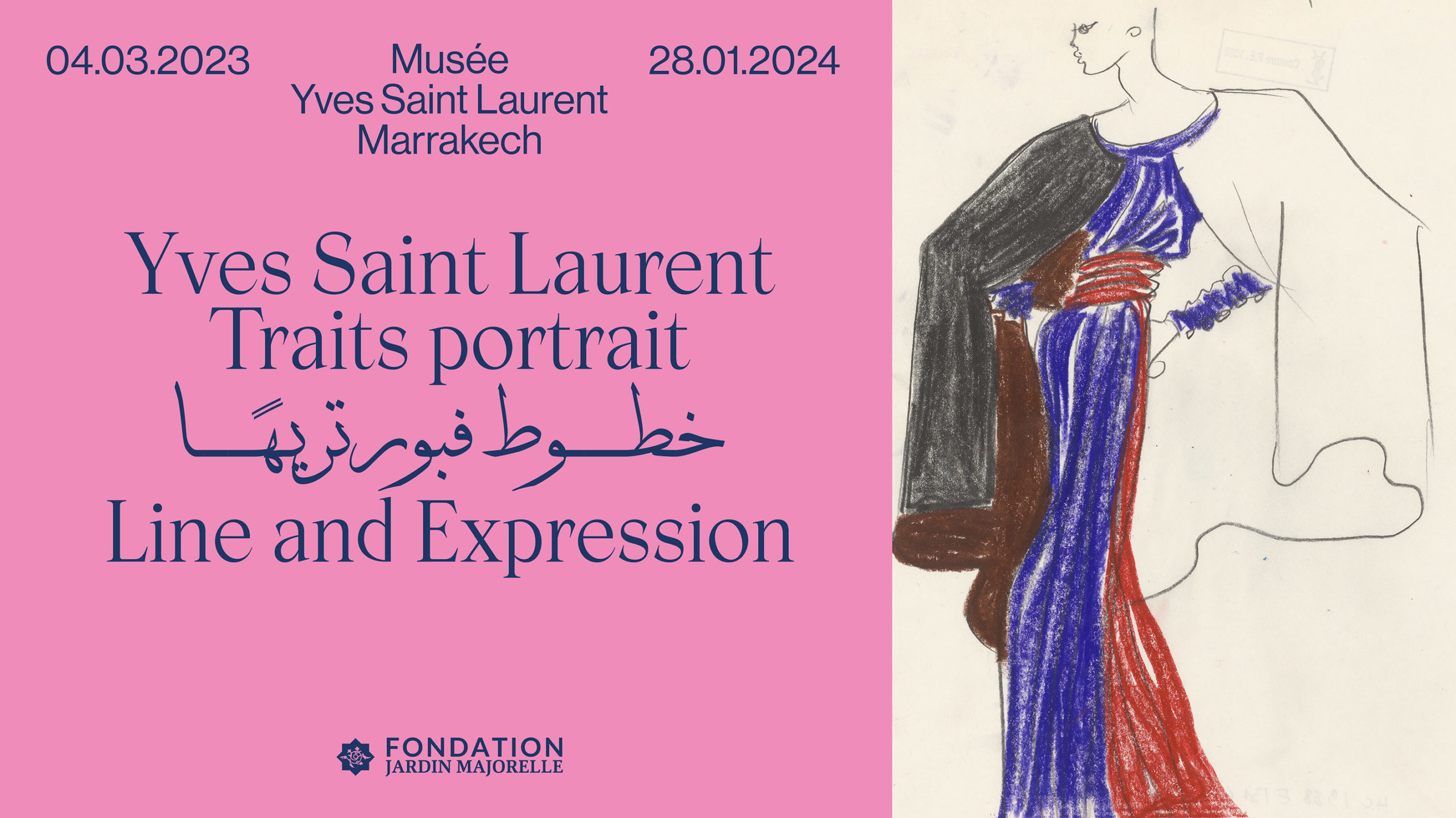 YVES SAINT LAURENT : LINE AND EXPRESSION
FROM 4 MARCH 2023 TO 28 JANUARY 2024
It is a great privilege for the Musée Yves Saint Laurent Marrakech to present the exhibition Yves Saint Laurent: Line and Expression [Traits portrait], curated by Olivier Saillard and Gaël Mamine, which explores the rich body of exploratory graphic work by the late couturier.
Both men have strong links with Yves Saint Laurent's work. Saillard was the curator of the important exhibition Yves Saint Laurent 1971: La collection du scandale, mounted at the Musée Yves Saint Laurent Paris in 2015. It examined a legendary collection that was heavily critiqued by the press when it was unveiled, yet was universally adopted by the public and sparked the retro trend, which continues to resonate within fashion today.
Mamine was Head of Collections and Textiles at the Fondation Pierre Bergé – Yves Saint Laurent and played a key role in the Saint Laurent retrospective at the Montreal Museum of Fine Arts in 2008.
As we delve deeper into the vast repertoire of works left by the great French couturier Yves Saint Laurent, it seems essential that we explore the genesis of his designs by scrutinizing his many preparatory drawings and sketches, today housed at the Fondation Pierre Bergé –Yves Saint Laurent in Paris.
It is there ― within the more than 60,000 sketches and drawings preserved by the Foundation ― that the grand couturier's vision is so readily grasped through simple and often highly evocative line illustrations. In many, even a type of fabric is implied: the etherealness of chiffon, the shimmer of silk, the textural weave of tweed and sumptuousness of velvet are richly and visibly evoked by simple lines drawn with an 2B pencil.  This distillation of his vision to several rapidly sketched lines allowed for a unique and extraordinary understanding between Yves Saint Laurent and those working in his ateliers, whose vocation was to realize the couturier's vision.
While looking at these powerful illustrations, which would magically be transformed by the Paris ateliers into mythical creations, it is extremely moving to imagine that so many were drawn during Yves Saint Laurent's twice-a-year stays in his beloved Marrakech.  It is so fitting, in delving into this rich heritage of drawings and sketches, that these line illustrations are presented for the first time here in Morocco: a line becomes a full circle.
Exhibition curators: Olivier Saillard, Gaël Mamine
Exhibition design: Claudia Huidobro