Le Jardin Majorelle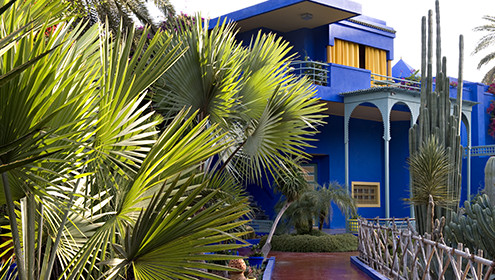 Le Jardin Majorelle
In 1919, the French painter Jacques Majorelle (1886-1962) took up residence in the medina of Marrakech (then a French protectorate). In 1923, he purchased a palm grove on the outskirts of the city. Seven years later, he built the Villa Bousafsaf on the property. Yves Saint Laurent and Pierre
In 1931, he commissioned the architect Paul Sinoir to build him an Art Deco-style workshop of astonishing modernity. He set out his primary living space on the first floor and turned the ground floor into a vast artist's studio where he would paint his huge decorative works. His passion for botany led him to create a garden on the property, structured around a long central pool, with a variety of different environments, planted with lush vegetation in which hundreds of birds nested.
The garden is a living and evolving work of art made up of exotic plants and rare species that he brought back from his travels around the world: cactus, yuccas, water lilies, white water lilies, jasmines, bougainvilleas, palms, coconut trees, banana trees and bamboos. In 1937 the artist created an ultramarine blue that was both bright and intense: known today as Majorelle blue, he used it to paint and transform the garden, which he opened to the public in 1947. Following a car accident, Majorelle was repatriated to Paris where he died in 1962. The garden then fell into neglect. In 1980, Pierre Bergé and Yves Saint Laurent acquired the garden to save it from property developers and bring it back to life.
Following the death of Yves Saint Laurent in 2008, Pierre Bergé decided to donate the Jardin Majorelle to the Fondation Pierre Bergé – Yves Saint Laurent. The garden designer Madison Cox opened a new, environmentally-friendly chapter at the Jardin Majorelle by adding numerous succulent plant varieties native to Morocco, and by replacing ground cover with rose-coloured gravel that echoes the dominant colour of Marrakech.