Jacques Azema. A Poetic Adventure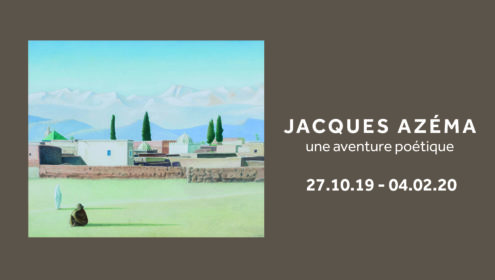 Due to its ongoing success, the Yves Saint Laurent Museum has extended the Jacques Azema exhibition until Sunday March 24, 2020
FROM 27 OCTOBER 2019 TO 24 MARCH 2020
The museum YVES SAINT LAURENT marrakech will present the first retrospective exhibition dedicated to the work of Jacques Azéma (1910-1979), a French artist who arrived in Marrakech in 1930. His paintings, heavily influenced by Symbolism, reflect his personal vision of Morocco. Jacques Azéma had an important influence on Moroccan artists of his time, both in Marrakech and in Casablanca, where he taught for many years at the École des Beaux-Arts. The exhibition will gather forty drawings and paintings, organized around three important themes that are central to the artist's work: geometric research, genre scenes and men. He lived in the medina in close proximity to his subject matter: the streets and their merchants, the acrobats in the central square, and his discovery, with them, of the hammams of Marrakech. Azéma's compositions, and his indifference to the traditional rules of perspective, distance his work from the "Orientalist" naturalism that prevailed at the time. His literary and artistic training, shaped by Surrealist thought, gave him the desire to explore the geometrical basis of forms, their contradictions, and the rendering of movement.
"His small-format paintings are like jewels that reveal a dreamlike representation of Morocco, a landscape of the unconscious whose pictorial language is closer to that of a true Surrealist inspired by Giorgio de Chirico or Pierre Puvis de Chavannes. How wonderful that this exhibition will do justice to Jacques Azéma and to the particular quality of his artistic output; that his long-forgotten work will be rediscovered; and that we will appreciate its modernist underpinnings, as an offshoot of the Parisian avant-garde,
which he brought with him to Africa nearly a century ago."
Marie-Françoise Giacolette & Christopher González-aller
JACQUES AZÉMA AND MOROCCO
Like his contemporary, Jacques Majorelle, Azéma felt a strong bond with Morocco. He arrived for the first time in 1930 and, wanting to understand the culture of the country, sought friendships with Moroccans in Marrakech, Casablanca and El Jadida.
"I love nothing more than a sincere innocence. I settled in Morocco so that I could live alongside it. I admit that my relationships until now have only been with Moroccans of the most humble class, whose lack of culture has preserved this innocence, which, in my opinion, makes them so admirable."
Extract from a letter written by Jacques Azéma to a friend, dated Marrakech, July 28, 1934
Curator : Marie-Françoise Giacolette
Press release :
English
French
Catalogue :
English/French