Théophile-Jean Delaye's Morocco (1896-1970)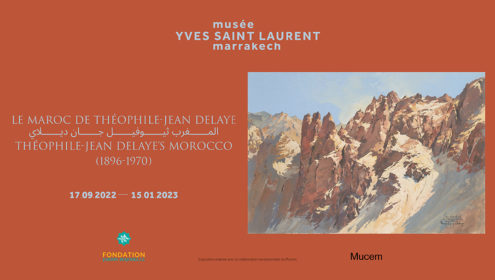 FROM 17 SEPTEMBER 2022 TO 29 JANUARY 2023
The Musée Yves Saint Laurent Marrakech is mounting an exhibition devoted to the cartographer and illustrator of Morocco, Théophile-Jean Delaye, from Saturday, September 17, 2022 through Sunday, January 15, 2023.
This exhibition is the fruit of a partnership agreement, signed in June 2020 between the Museum of European and Mediterranean Civilizations (Mucem) in Marseille and the Fondation Jardin Majorelle in Marrakech.

The exhibition, which was conceived by a special partnership with the Museum of European and Mediterranean Civilizations (Mucem) in Marseille, retraces Théophile-Jean Delaye's years in Morocco through a selection of 120 works, a significant number of which hail from the Mucem's collections. The museum acquired these works from the artist's descendants in April 2019.
The exhibition also benefits from a generous loan of artworks from the artist's family. In the 1930s, Théophile-Jean Delaye was the first cartographer  to scientifically map the mountains of southern Morocco, in particular
the Toubkal massif. His prolific pictorial work is as much characterized by a scientific approach as by an aesthetic one.
Born in the Dauphiné region of France, at the foot of the Alps, Théophile-Jean Delaye was captivated by high mountains from a very young age. All his books, and every article he published in the Revue de géographie
du Maroc between 1930 and 1940, clearly show that he was interested  in the mountains not only as a cartographer, but also as a mountaineer, or "rock climber," as he would call himself.
His deep affinity for the mountains of Morocco gave him the determination to preserve them: In 1942, he was instrumental in the creation of the Toubkal Natural Park, the first Moroccan natural park, which in time became the Toubkal National Park. He also established the Moroccan chapter of the French Alpine Club, which celebrates its 80th anniversary this year.
This scientific approach to mountains was not without an aesthetic dimension that he expressed in his artwork, whether through drawings or paintings.
Exhibition curators : Mireille Jacotin, François Larbre
Exhibition design : Jasmin Oezcebi
Press kit :
English
French
Arabic
Brochure :
English
French
Arabic
Publication :
Théophile-Jean Delaye's Morocco (1896–1970)