Une amitié marocaine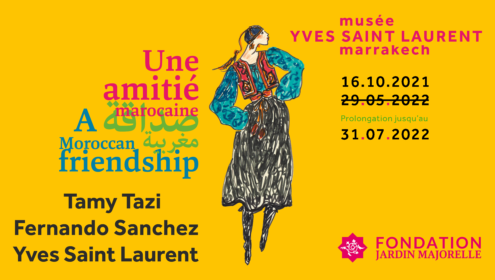 Tamy Tazi
Fernando Sanchez
Yves Saint Laurent
Due to this great success, the Musée Yves Saint Laurent Marrakech is pleased to announce that the exhibition "A Moroccan Friendship : Tamy Tazi – Fernando Sanchez – Yves Saint Laurent" will be extended until 31 July 2022.
FROM 16 OCTOBER 2021 TO 31 JULY 2022
The remarkable exhibition opening soon at the Musée Yves Saint Laurent Marrakech explores the friendship and spheres of inspiration shared by three couturiers: Tamy Tazi, Fernando Sanchez (1935-2006) and Yves Saint Laurent (1936-2008). All three had the same passion for Morocco, its colors, its exuberance and its rich ancestral heritage.
This exhibition is the first to look through their eyes while evoking the key moments of a creative dialogue that began at the end of the 1960s. It brings together a number of major works that are among the most representative of their pursuits, their experimentation and fellowship.
They were close friends who were passionately interested in the decorative and applied arts of Morocco, and fascinated by the Kingdom's colors, "its forceful harmonies, brazen fusions and feverish creativity." (Yves Saint Laurent). They were particularly attentive to "the mysterious streets of Marrakech," (Fernando Sanchez), and to this city that "introduced them to color" (Yves Saint Laurent). Their passion for this "wonderful unknown" city would bring them together regularly.
The exhibition's aim is to open a mirror onto their friendship and the passion for Morocco that inspired them. The revealing words of Yves Saint Laurent seem to echo throughout the exhibition: "Although accustomed to the light and the colors of North Africa, it was later, when I discovered Morocco, that I realized that the range of colors I use was that of the zelliges, zouacs, djellabas and caftans. The boldness seen since then in my work, I owe to this country, to its forceful harmonies, its daring combinations, the fervor of its creativity. This culture became mine, but I wasn't satisfied with absorbing it; I took, transformed and adapted it." (1983)
In the winter of 1966, Yves Saint Laurent visited Marrakech for the first time. It was love at first sight. From then on, until the end of his career, he would travel to Morocco several times a year for rest and relaxation, and to design his collections. A year earlier, in 1965, Tamy Tazi appeared in the pages of the influential fashion magazine, Vogue, as a symbol of Moroccan elegance and modernity. She became one of Yves Saint Laurent's first friends in Morocco. Fernando Sanchez and Yves Saint Laurent met as young men at the École de la Chambre Syndicale de la Couture Parisienne and remained close friends all their lives. While living in Casablanca, New York and Paris respectively, Tamy Tazi, Fernando Sanchez and Yves Saint Laurent would regularly meet up in Marrakech, sharing the same fascination for the richness of the Moroccan decorative repertoire.
Yves Saint Laurent emphatically affirmed the influence that Morocco had on his work. He knew how to take advantage of, reinvent, and create a new feminine silhouette using the burnous, the saroual, and other traditional clothing from the Moroccan man's wardrobe. His color palette, which combined vibrant, warm tones with more restrained colors, was also influenced by what he saw in Morocco. In his work, the dazzling colors of Marrakech confront each other: pink, red, yellow, but also muted colors such as beige, earth tones and navy blue. It is worth noting that Yves Saint Laurent, before discovering Morocco, attached a greater importance to the color black in his collections.
To fully appreciate the rich and abundant itinerary of Yves Saint Laurent's work, one must take into account his forty-year friendship with Tamy Tazi and Fernando Sanchez. The works of these three fashion designers, which often resonate with one another, give form to this crossplay.
Tamy Tazi discovered how to reinvent the caftan, giving it a more slender and refined silhouette, offering women a new assuredness while emphasizing the contours of the feminine form. She took an interest in the art of cutting fabric, and above all, in embroidery. She redefined the caftan, playing with both dress codes and variations in shapes and colors. She built an extraordinary collection of embroidery and antique textiles, which allowed her to broaden her gaze and helped inspire her creative work. Tamy Tazi shared her passion for Moroccan embroidery and fabrics with Yves Saint Laurent and Fernando Sanchez, both of whom she both introduced to this very particular world. At the same time, thanks to her involvement with Yves Saint Laurent, whose fashion house she represented in Morocco, Tamy Tazi gained access to fabrics that were designed by major textile manufacturers exclusively for the French couturier.
This exhibition lets us in on a game of give and take: how the visual worlds shared by the three friends and designers influenced all three, and how each, in his or her own way, sought to reinvent these worlds. Their individual adaptations of these visual perspectives, and the crossroads among their works, are based on a deep bond and aesthetic communion that would continue to reunite them at various stages of their lives and careers for over 40 years. The works exhibited must be seen and understood in the light of the close friendship between Tamy Tazy, Fernando Sanchez and Yves Saint Laurent and their ongoing play of successive reinterpretation and creative renewal.
Exhibition curators : Madison Cox, Mouna Mekouar
Exhibition design : Jasmin Oezcebi
Press kit :
English
French
Arabic
Brochure :
English
French
Arabic
Publication :
Une amitié marocaine Tamy Tazi – Fernando Sanchez – Yves Saint Laurent