BERT FLINT : AN EXHIBITION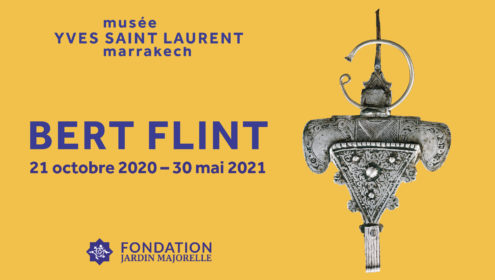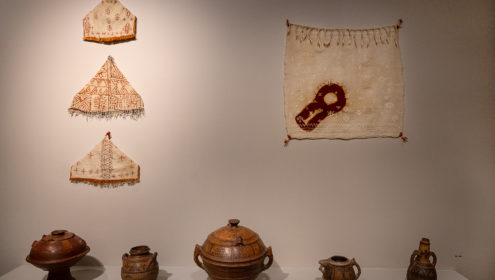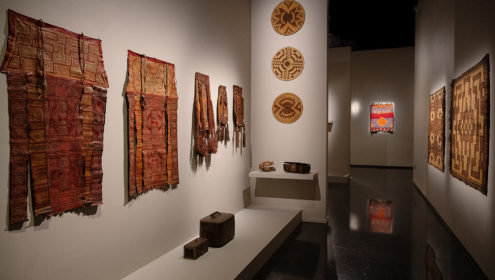 Due to its ongoing success, the Yves Saint Laurent Museum has extended the Bert Flint Exhibition until Sunday, 1 August 2021.
FROM 21 OCTOBER 2020 TO 1 AUGUST 2021
The Musée Yves Saint Laurent Marrakech is pleased to present an exhibition that offers a portrait of the life's work of Bert Flint, a passionate observer and self-taught cultural anthropologist with a deep affinity for Moroccan and sub- Saharan cultures. Through more than 60 years of dedicated observation of rural peoples and the objects they create, Flint has been able to access underlying paradigms of motifs, materials and techniques shared across tribes and geography.
This exhibition brings together works from his personal collection that bear witness to his vision of the diversity and richness of Berber traditions that have flourished from the Atlas to the Anti-Atlas and from the Sahara to the Sahel.
In 1996, Flint founded the Tiskiwin Museum in Marrakech, a small museum bearing his personal stamp, to share with the public his collection of jewels, textiles, pottery, ceramics and more, and to reveal the deep, and often forgotten, ties that unite Moroccan traditions to those of the Saharan world and to the broader African continent.
Conceived as a vast visual poem to the enveloping beauty of the objects themselves, the exhibition emphasizes the formal language of objects used by Bert Flint in his research and his role as regardeur. It is our hope that viewers will make their own observations, finding links between various cultures, regions, tribes and communities.
As if to guide visitors on an imaginary journey that begins in Marrakech, the exhibition is organized to take us across territories from the Middle Atlas to the Anti-Atlas, from the Rif to Tafilalet, and on to the sub-Saharan regions of Mali and Mauritania. In each region, one emblematic craft is highlighted, so that basketry, pottery, ornaments, amulets, textiles or leather goods are all presented in the same exhibition space, with examples hailing from each of the sites on this journey. Each stage in the route is linked to a region whose history has intersected with nomadic or seminomadic populations with which it has come in contact. In this way, these objects invite us to rethink our conventional approach to artistic production in these different territories. We are able to see how sub-Saharan populations and cultures have enriched and transformed differents regions of Morocco, while the latter has likewise influenced other lands through this exchange. Each object exhibited bears witness to, and leaves a trace of, shared cultural practices, attesting to the presence of a common cultural heritage.
The multifaceted mosaic that appears from Morocco to the Sahel, as seen through these objects, leads us to consider these different worlds as a single cultural and artistic entity. This perspective is Bert Flint's interpretation of the works and the worlds they suggest. The works engage in a visual dialogue with one another, providing us with a particular aesthetic geography. The exchanges and influences—whether east-west or north-south—appear as cultural links.
Through an interplay of references and harmonies of decoration, symbolism and techniques, the exhibition provides a fresh perspective on these cultures and reveals the interconnected contributions of a multitude of designs and patterns.
This exhibition reflects a long history of friendship, admiration and collaboration between the Fondation Jardin Majorelle and Bert Flint. In 2018, the Foundation published a volume titled "African-Berber Culture: Neolithic Traditions of the Sahara in North Africa and the Sahel Region" in recognition of a generous donation of textiles that Flint gave to the Pierre Bergé Museum of Berber Arts (formerly the Berber Museum) in 2015. This exhibition is another way in which the Foundation is pleased to honor the work of this extraordinary man. Opening a window onto the territories Flint has crossed and the cultures he loves, this exhibition draws strength from the way in which it connects territories and people across communities, landscapes and national boundaries, while at the same time recognizing the unique diversity of each.
Curator: Mouna Mekouar
Exhibition designer: Jasmin Oezcebi
Press release :
English
French
Arabic
Brochure :
English
French
Arabic
Publication :
African-Berber Culture / La culture afro-berbère