Les Marocains by Leila Alaoui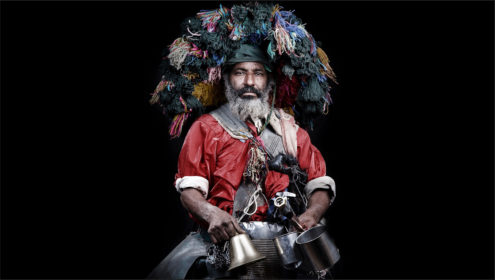 TEMPORARY EXHIBITION WITH FREE ADMISSION
AT THE MUSÉE YVES SAINT LAURENT MARRAKECH
FROM 30 SEPTEMBER 2018 TO 5 FEBRUARY 2019

Like others before and after her, Leila Alaoui was someone committed to helping others, and who travelled the world to bear witness to their suffering; it was when doing so that she accomplished her most beautiful work.
She held deep convictions. The manner in which she left us justifies my lifelong struggle to defend tolerance. When I think of Leila Alaoui, I remember the words of André Gide: "My old age will have begun when I am no longer offended."
Excerpt from a speech given by Pierre Bergé in Marrakech on 14 April, 2017, when Leila Alaoui was posthumously awarded the title of Commandeur de l'Ordre des Arts et des Lettres by the French Republic.
Les Marocains is one of the last projects undertaken by Leila Alaoui, a French-Moroccan photographer who tragically died from injuries sustained during a terrorist attack in Ouagadougou, Burkina Faso, on 15 January 2016. Three years later, the musée YVES SAINT LAURENT Marrakech, in partnership with the Fondation Leila Alaoui, will present her work in Marrakech, the city where she was raised and where, as a child, she met Yves Saint Laurent. Her photographic series is a testament to Morocco's cultural diversity, which is also on display at the Jardin Majorelle's Berber Museum.
Regarding her series Les Marocains, Leila Alaoui said, "While exploring my own heritage, I stayed among different communities, and used the fact that I was born Moroccan as a sort of 'filter' – one based on empathy  – to awaken and reveal in these portraits the specific character of the individuals I photographed."
 The exhibition presents thirty portraits from her series Les Marocains, several seen for the first time, and has been curated by the author and photographer, Guillaume de Sardes.
For the entire run of the exhibition, the Fondation Jardin Majorelle has decided to offer free admission to the temporary exhibition hall, offering as many Marrakchis and Moroccans as possible the opportunity to see Les Marocains and bear witness to the photographer's unique gaze vis-à-vis her fellow citizens. It is the first time the foundation has taken such an initiative.
From 30 September 2018 to 5 February 2019 at the musée YVES SAINT LAURENT Marrakech
Made possible with the generous support of the Amis de la Fondation Jardin Majorelle
Curator : Guillaume de Sardes
Exhibition designer : Christophe Martin
Press release :
English
French
Arabic
Brochure :
English/French/Arabic