CURRENT EXHIBITION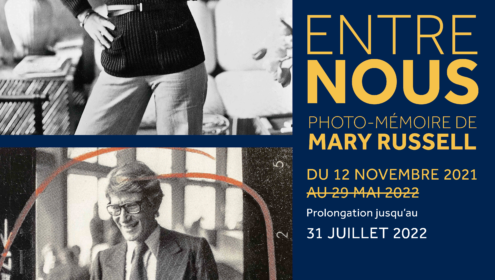 Due to this great success, the Musée Yves Saint Laurent Marrakech is pleased to announce that the exhibition "Entre Nous: Photo Memoir by Mary Russell" will be extended until 31 July 2022.
Who Is Mary Russell?
An American in Paris, journalist, photographer and epicurean.
Mary was born in Boston, the daughter of a naval officer who was transferred to the Sixth Fleet Admiralty at Villefranche-sur-mer, France. She received a French education and studied at the École Nationale des Arts Décoratifs in Nice before returning to the U.S.
With her relentless energy, daring and French allure, Mary fascinated the reigning priestess of fashion Diana Vreeland, who becomes a lifelong fairy godmother to her, propelling her to Glamour magazine as a fashion assistant in New York and later in Paris.
"I've always loved adventure and always imagined myself as the heroine of my own film." Little did she know that her film's scenario, starting in Paris, would surpass her wildest dreams. Her role was to find and reveal the up-and-coming young creators in those explosive 1960s, such as Yves Saint Laurent, whom she not only met, but won over completely. Already close to Andy Warhol and the Factory in New York, and David Bailey in London, she inspired Yves and introduced him to this new world of provocation, daring and outrageous talent.
Graduating to Vogue in Paris, working as photostylist for the magazine, Mary assisted photographers Helmut Newton, Jeanloup Sieff, Lord Snowdon and Henry Clarke, among others, who encouraged her passion for the camera. Intrepid voyeuse, armed with her trusty Nikon, she began to steal time…
"We thought we would never grow old, would always stay entre nous."
The photographs of this exhibition were, for the most part, taken from the book Entre Nous: Bohemian Chic in the 1960s and 1970s: A Photo Memoir by Mary Russell, published by Flammarion in March 2020 and edited by Pierre Passebon.