CURRENT EXHIBITION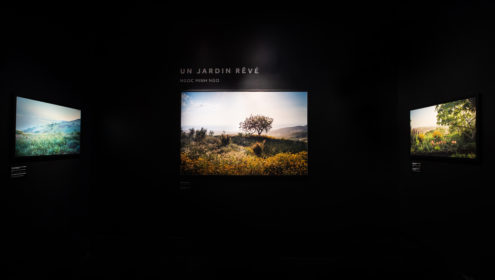 Eden Revisited – Rohuna, Northern Morocco
UMBERTO PASTI and NGOC MINH NGO
The Fondation Jardin Majorelle is pleased to announce the book signing of Eden Revisited: A Garden in Northern Morocco by the author and horticulturist Umberto Pasti and the photographer Ngoc Minh Ngo, to be held on December 19, 2019 at the musée YVES SAINT LAURENT marrakech.
Umberto Pasti, who arrived in Morocco more than 30 years ago, has a passion for the wild flora of Tangier and its surroundings. This led him to create his garden, Rohuna. He transplanted thousands of plants saved from construction sites with the help of men from the nearby village. His garden, a retreat amid lush vegetation that evokes certain paintings by Henri (Le Douanier)  Rousseau, is set on a hill planted exclusively with wild species endemic to northern Morocco (narcissus, irises and crocuses, among others). The renowned photographer Ngoc Minh Ngo has captured the poetic beauty of the grandiose landscapes and green fields that define this unique and exceptional garden.
The photographic series by Ngoc Minh Ngo that accompanies the book signing will be exhibited at the musée YVES SAINT LAURENT marrakech from December 19, 2019 through September 22, 2020.
Umberto Pasti's garden at Rohuna is as much an autobiography written in flora and soil as a garden of earthly delights. Perched on a remote and stony hillside overlooking the Atlantic, its natural grandeur is matched by its mission – to save the indigenous wildflowers of northern Morocco. There is something biblical about the landscape in Rohuna – the fig and olive trees, the animals, the combination of the wild and the tamed – that makes the place at once earthy and majestic, always changing with every season yet timeless. The Rohuna I saw during the three-year period of this project was always different but always full of wonder. One February morning, the sky was overcast, and as I was waiting patiently for the light to come through the clouds, the fog started rolling over the neighboring hill, creeping and changing shape as it made its way to the sea. The entire landscape changed before my eyes, full of mystery. Time collapsed and I saw the hills around me as they had been for millennia, where native wildflowers have bloomed every spring since time immemorial. It is my great fortune to have had the opportunity to bear witness and record the life of this extraordinary garden.
Ngoc Minh Ngo
Regarding the book:
Eden Revisited: A Garden in Northern Morocco by Umberto Pasti and Ngoc Minh Ngo was published by Rizzoli USA in September 2019. The following month, an Italian edition, Un giardino atlantico – Rohuna, Nord del Marocco was published by Bompiani, and a French edition, Un Jardin Rêvé – Rohuna, Nord du Maroc, by Flammarion.
A conference, Flore Marocaine, will be held at the FSSM (Faculty of Sciences Semlalia at Cadi Ayyad University, Marrakech) on December 20, 2019.  At the conference, Umberto Pasti will discuss his important northern Moroccan garden, Rohuna, and the endemic plant species found there, certain which are threatened with extinction. Please note the conference will be conducted in French.
Biographies:
Umberto Pasti is a well known Italian horticulturalist and author, whose books include Le Bonheur du Crapaud and Jardins: Les vrais et les autres, as well as Perdu au paradis, which was published by Flammarion in May 2019.
Ngoc Minh Ngo is a Vietnamese-born photographer whose work explores the intrinsic beauty of plants and the intersection of art, history, culture and nature. She is especially interested in the myriad ways flowers have been used in different cultures and times in history. Her photographs have been published in Vogue, T Magazine, Architectural Digest, House & Garden UK and Cabana. Before Eden Revisited: A Garden in Northern Morocco, she authored two books on floral arrangement: Bringing Nature Home: Floral Arrangements Inspired by Nature and In Bloom: Creating and Living with Flowers.